Axon Body 2
Unlimited HD. No Distractions.
Axon Body 2 builds upon its predecessor's powerful simplicity to bring you advanced technology with the same low maintenance. The single-unit on-officer camera now features upgraded capabilities like unlimited HD video, Wi-Fi video offload and industry-leading security enhancements.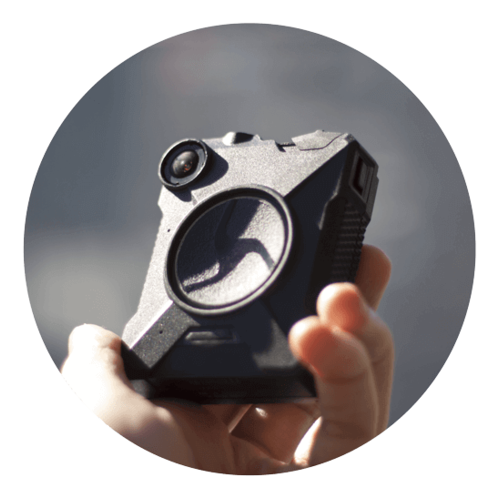 Beyond a Camera and Beyond Compare
Behind the simple camera design lies a platform capable of performing virtually anything you can imagine. The hardware supports full wireless connectivity for triggering, streaming, and integration with the industry-leading suite of mobile and cloud applications. With feature improvements and updates every 30 days, Axon Body 2 is a scalable, future-proofed video solution for police officers.
Retina HD Video: The industry's best low-light video now records in HD.
Dual Audio Channels: Make voices much more distinct with audio tuning and noise reduction.
Full-Shift Battery: Lasts for over 12 hours.
Wi-Fi & Bluetooth Connectivity: Axon Body 2 uses wi-fi to stream videos and bluetooth to assign metadata.
Wireless Activation: Axon Signal reports events, like when you open the car door or activate the light bar, so your camera can detect them and start recording.
Mobile App: Stream, tag, and replay videos right on your phone with Axon View.
Optional Mute: Ability to disable audio in the field to support dual-party consent.
In-Field Tagging: Mark any important points in your video.
Unmatched Durability: Built to withstand extreme weather and brutal conditions.
Advanced Security: Evidence is encrypted at rest on the camera to protect data at all times. Learn More
Axon RapidLock Mounts: Versatile mounts keep the camera steady during tough situations. See Accessories
Product Specification
| | Axon Body 2 | Axon Body |
| --- | --- | --- |
| Video Resolution | 1080P / 720P / 480P | 480P |
| Video Format | MPEG4 | MPEG4 |
| Field of View | 142° | 130° |
| Replaceable Battery | ✓ | |
| Battery Life | 12+ hrs | 12+ hrs |
| Built-In WiFi | ✓ | |
| WiFi Offload | Capable | |
| Axon Signal Equipped | ✓ | |
| Storage | 64 GB | 8 GB |
| Record Time | Up to 70 hrs | Up to 12 hrs |
| Audio Mute | ✓ | |
| Video Markers | ✓ | |
| Pre-Event Buffer Audio | Configurable | |
| IP Rating | IP67 | IP55 |
| US Military Standard | MIL-STD-810G | |
| Drop Test | 6 ft [1.8 m] | 6 ft [1.8 m] |
| GPS | ✓ | ✓ |
| Vibration | ✓ | |
| Docking Station | ✓ | ✓ |
| Operating Temperature | -4° F to 122° F [-20° C to 50° C] | -4° F to 122° F [-20° C to 50° C] |