Axon Body 2
Unlimited HD. Unparalleled focus.
When you need to stay focused, count on Axon Body 2 to record the situation at hand. This single-unit, on-officer camera features unlimited HD video and industry-leading security enhancements. Connect, stream, and feel confident – Axon Body 2 has your back.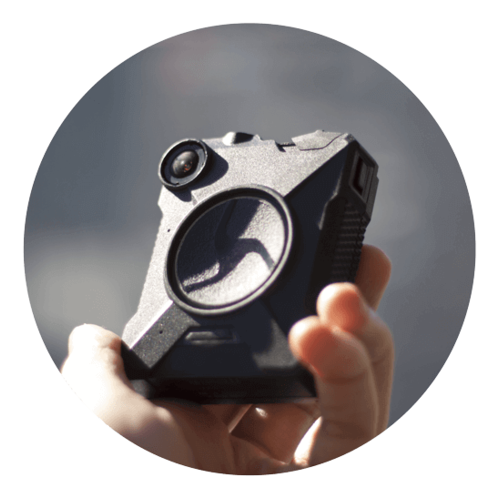 Recording evidence is just the beginning.
Axon Body 2 is more than a camera. It's a fully-connected, wireless device that updates every 30 days. When you're in the field, you can capture and stream video with complete integration in our suite of mobile and cloud applications.
Retina HD Video: Record in low-light and HD.
Dual Audio Channels: Make voices more distinct with automatic tuning and noise reduction.
Full-Shift Battery: Record for more than 12 hours.
Wi-Fi & Bluetooth Connectivity: Use Wi-Fi to stream videos and Bluetooth to assign metadata.
Wireless Activation: Axon Signal reports events, like when you open the car door or activate the light bar, so your camera can detect them and start recording.
Mobile App: Connect with Axon View to stream, tag, and replay videos from your phone.
Optional Mute: Disable audio to support dual-party consent.
In-Field Tagging: Mark any important points in your video.
Unmatched Durability: Handle in extreme weather and brutal conditions.
Advanced Security: Protect data at all times with evidence encryption.
Axon RapidLock Mounts: Keep your shot steady with versatile mounts. See other Accessories
Product Specification
| | Axon Body 2 | Axon Body |
| --- | --- | --- |
| Video Resolution | 1080P / 720P / 480P | 480P |
| Video Format | MPEG4 | MPEG4 |
| Field of View | 142° | 130° |
| Replaceable Battery | ✓ | |
| Battery Life | 12+ hrs | 12+ hrs |
| Built-In WiFi | ✓ | |
| WiFi Offload | Capable | |
| Axon Signal Equipped | ✓ | |
| Storage | 64 GB | 8 GB |
| Record Time | Up to 70 hrs | Up to 12 hrs |
| Audio Mute | ✓ | |
| Video Markers | ✓ | |
| Pre-Event Buffer Audio | Configurable | |
| IP Rating | IP67 | IP55 |
| US Military Standard | MIL-STD-810G | |
| Drop Test | 6 ft [1.8 m] | 6 ft [1.8 m] |
| GPS | ✓ | ✓ |
| Vibration | ✓ | |
| Docking Station | ✓ | ✓ |
| Operating Temperature | -4° F to 122° F [-20° C to 50° C] | -4° F to 122° F [-20° C to 50° C] |